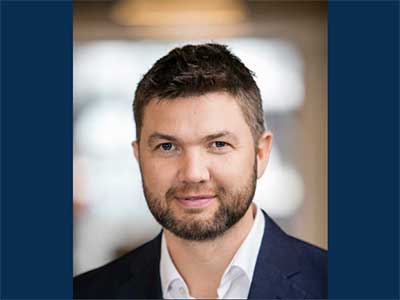 As part of our meet the expert series, we caught up with Auramarine board member, and Vice President of Hafnia, Peter Grunwaldt, to find out more about his industry experience, future predictions and opinion on the direction of the future fuels market.  
It would be great if you could provide us with a brief background of your time in the maritime industry – where did it all begin?
I have had a diverse career in maritime, having been in the industry for 22 years now! I started as a management trainee with A.P Moller-Maersk on their three-year MISE programme, where I was expatiated for a year and learned about a wide range of shipping related topics such as maritime law, chartering and more. I then joined Maersk's bunker procurement department in 1999, with responsibility for buying fuel for the fleet in the Mediterranean and Africa. I then moved to Singapore to open Maersk's bunker procurement office in the region, purchasing fuels for the fleet in the Far East and Middle East. I subsequently moved to London in 2006 where I worked for Glencore; staying with the company for six years before joining its subsidiary Chemoil as the global head of sales.
After three years in Dubai, working for a private investor, I moved back to Denmark in 2017 where I joined Hafnia and I am now currently the Vice President and Head of Bunkers, assisting the company, and BW Group, in bunker related matters.  I am also currently a board member on the Auramarine board.
What are the biggest changes you have witnessed in your time in the industry?
From my point of view, it has to be the recent IMO 2020 regulations, which has been a paradigm shift in many ways. In conjunction with this, we are looking at the progressive future fuels that meets the shipping industry's future decarbonisation challenges, will have a huge impact on the make-up of the market, and how we look at alternative propulsion methods for vessels.
What option did Hafnia choose as its route to IMO2020 compliance?
It was relatively early in 2018 that we decided to run the vessels in our fleet on new low sulphur fuel oils, and not retrofit the fleet with scrubbers.
We made that decision for a number of reasons. Firstly, we didn't think HSFO would be readily available in many of the 200 different ports that our vessels call at annually. Secondly, we were not sure about the economic aspect in fitting a scrubber. And most importantly, we were not convinced on the environmental impact of discharging scrubber wash water back into the sea.
Subsequently, as it turns out, we were right on the HSFO availability, and with the price spread between HSFO and IMO 2020 fuels quickly narrowing, the economics for scrubber fitted vessels are less favourable.
Although the jury is still out on the true environmental impact of scrubbers, we are recognising that more and more ports have banned, and are looking to ban, vessels from using scrubbers when going into certain areas.
What changes do you anticipate the industry will undergo in a post IMO2020 climate concerning fuel and fuel supply systems?
Clearly the current pandemic will have a major impact on global trade and the wider global economy, and we will need to adapt accordingly over the coming months. However, as the world begins to recover, the shipping industry cannot take its eyes off the ball in terms of making sure it successfully evolves in line with the ongoing sustainability challenges that we face.
As ship owners start to look at alternative and more sustainable means of propulsion, I believe one of the biggest changes we will witness in the coming years is the increasing segmentation of the industry. While many people are positioning LNG as the best current solution, there is no 'silver bullet', and I believe success in meeting the industry's decarbonisation targets will be based on the adoption of multiple solutions. It's therefore critical that fuel supply solutions and switching systems keep pace with this change and evolve accordingly. Companies such as Auramarine, will therefore play a critical role in contributing to this industry debate and bringing to market the very latest solutions.
While, the industry must evolve quickly, we should also remember that we have progressed a long way from the 1990's where bigger vessels with less freight would burn 250 tonnes of heavy fuel oil every day! We must also bear in mind that shipping is the most efficient and most environmentally friendly form of transporting goods, and I believe that ship owners are very aware of the changes that are required. And that despite low oil prices, they understand that developing more efficient and sustainable ways of propelling their assets is the key to future-proofing their businesses for the long-term.
Where do you predict the industry will be in 2030?
The trajectory of the curve is getting steeper by the day, with a growing demand for alternative fuels, new technologies and increasing regulation facilitating industry change. In 2030, we will start seeing different types of vessels, which are more economically and environmentally friendly and driven by a range of fuels and technologies. Fundamentally as an industry, I believe we all want change to happen, and to create a greener and more sustainable environment. To make this happen, we need to unite and work together.
______________________________________________________________________________
Keep pace with the change and find out about Auramarine modernisation services based on your needs