"When employees find satisfaction and enjoy success in their work, they also make a company prosper. At Auramarine, we believe that the success of each individual emerges from mutual appreciation, genuine interest, training and support."
According to our employee survey published in September 2021, the flow of information in our teams is open, our supervisors support mental well-being and physical safety and the personnel have the prerequisites to perform their duties well.
Finland's most active workplace
Auramarine has received Finland's most active workplace certificate in recognition of physical activities and health actions for workforce.
Our employees are our most important asset, and the well-being of our personnel is part of our strategy.
By investing in a physical exercise activities and mental well-being we ensure our employees work in an active, happy and supportive environment, which keeps both the body and the mind healthy.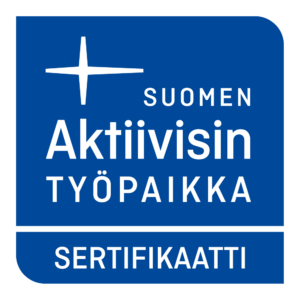 Expertise & excellence
Our expertise stems from dedication, in-depth knowledge and lengthy experience. The result is excellence, both in our products and our services. As experts in our industry we are committed to setting ever higher standards.
Reliability
We deliver what we promise. Reliability forms the core of all our services and is essential to the long service life of our robust products.
Will to improve
We are constantly improving and developing both the industry and ourselves. This drive is evident from the high performance of our products, our view on sustainability, our continuous growth in expertise, and commitment to mastering future challenges.
Appreciation
We respect our customers, partners and co-workers. Our company is a home port away from home, where every person is valued and open communication is encouraged.
Current exciting developments in fuel supply technologies and regulations, especially in the maritime and environmental sectors, are driving us forward.
Would you like to become part of our industry, setting new standards for the future? Our broad team not only consists of fuel system experts, we also employ professionals in project and supply chain management, sales, finance and other domains. Our Finnish office is located in the Turku region; the most important maritime technology hub in Finland.  Our office and factory in China are located in Shanghai, and this unit serves as our main hub for operations in Asia.
If we don't have any suitable open positions at the moment feel free to submit an open application and we will get in touch.
We are looking for a Product Manager to take responsibility of the new product to be launched and its development. In this role you participate in the commercialization and marketing of the product, acting as a product's technical expert. The role and the product are new in our organization, so you have the opportunity to develop the role and the product's life cycle from the beginning.
The position is located in Auramarine headquarters in Littoinen, Turku region.
Open applications
We are continuously interested in hiring and retaining skilled and motivated people for roles such as:
New products sales engineers
Spare parts sales engineers
Field service engineers
Process designers
Engineers/Designers for electrical, machinery and automation domains
Trainees
Meet our summer trainees for 2022
In previous years, Auramarine has been able to offer a number of summer trainee positions to support our existing teams, enabling us to provide job opportunities for young and enthusiastic professionals in the early stages of their careers.
Stay on top of our news; follow us on LinkedIn, Facebook, Twitter and Instagram!