"When employees find satisfaction and enjoy success in their work, they also make a company prosper. At Auramarine, we believe that the success of each individual emerges from mutual appreciation, genuine interest, training and support."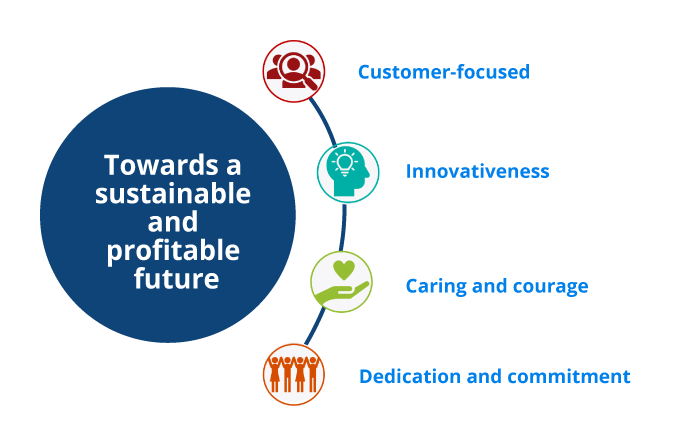 Customer-focused
The customer is our central driving force and focus for all of our business activities. We develop products and services according to what brings most value to our customers. We continuously listen to our customers' evolving needs and challenges, and we are flexible and fast at responding and delivering on our promises.
Caring and courage
Our people are at the forefront of our business. We take care of our people so that they feel important, appreciated and a valued part of our organisation. We have created a workplace where people feel safe and comfortable, both physically and mentally. We encourage our people to be curious and ask questions, actively share new ideas, express opinions, seek help when they need to, and adopt new ways of working that support the individual and organisation.  
Innovativeness
We are innovative and co-create sustainable solutions with our customers - we develop and supply new technologies, products and services together. Applying creativity, in-depth knowledge and our years of expertise are key to our long-term success in supporting the rapidly changing dynamics of the marine, power, and process industries.
Dedication and commitment
We are wholly dedicated to both our colleagues and customers. We are committed to working together to keep our promises and achieve common goals founded on a shared purpose. We finish what we start, and we stick to deadlines.
We do this with an entrepreneur mindset. This means that we value new ideas, self-management, and a dynamic approach to carrying out our work. This enables us to solve our customers' problems and tackle challenges efficiently and effectively.
Current exciting developments in fuel supply technologies and regulations, especially in the maritime and environmental sectors, are driving us forward.
Would you like to become part of our industry, setting new standards for the future? Our broad team not only consists of fuel system experts, we also employ professionals in project and supply chain management, sales, finance and other domains. Our Finnish office is located in the Turku region; the most important maritime technology hub in Finland.  Our office and factory in China are located in Shanghai, and this unit serves as our main hub for operations in Asia.
If we don't have any suitable open positions at the moment feel free to submit an open application and we will get in touch.
Lead Commissioning Engineer, Electrical / Automation, Alternative Fuels
We are looking for Lead Commissioning Engineer with an electrical, automation and/or alternative fuel background to join our team.
In this position, you are leading the commissioning, electrical and automation installations, testing and troubleshooting of Auramarine's alternative fuel systems to our customers in Europe, Korea and China, mainly in local shipyards.
The position is permanent and full-time. Auramarine's office is located in Littoinen, Finland, which serves as a home base between commissioning trips.
Open applications
We are continuously interested in hiring and retaining skilled and motivated people for roles such as:
New products sales engineers
Spare parts sales engineers
Field service engineers
Process designers
Engineers/Designers for electrical, machinery and automation domains
Trainees
Meet our summer trainees for 2023
Traditionally, Auramarine has been able to offer a number of summer trainee positions, enabling us to provide a valuable opportunity for aspiring professionals in the early stages of their careers to gain hands-on experience and contribute to our existing teams.
Stay on top of our news; follow us on LinkedIn, Facebook, Twitter and Instagram!