FUEL SUPPLY SYSTEMS FOR MARINE INDUSTRY
Versatile solutions that meet ship-specific needs
Auramarine Heavy Fuel Oil (HFO) and Marine Gas Oil (MGO) supply units meet critical fuel circulation needs. They ensure that a fuel's condition continuously satisfies engine-specific requirements, taking care of fuel filtering, heating and cooling.
The needs of different fuel types and engine configurations are also met and the various injection viscosities, flow rates and pressures are controlled. For safe, seamless fuel changeovers, Auramarine's fuel changeover system, FuelSafeTM, can be integrated as a part of the configuration.
Auramarine fuel supply units offer the additional benefit of a compact design, enabling an operator to maximise revenue-generating spaces on board a vessel.
All units are designed and manufactured to fit seamlessly with a customer's system. Auramarine offer two main alternatives, a compact, standardised AMB-Mc-series unit or an AMB-M-series unit, which can be extensively customised with a wide selection of options and functionalities.
Fuel supply units are available in different sizes according to total engine power requirements, ranging from 1,000kW to over 50MW.
The size classes are: AMB-Mc-02/03/05/07, AMB-M-12/15/18/26 and AMB-M-36/50/55/60
AMB-M 12…26
Maximum power serviceable: 25MW
Dimensions, including service space: minimum 3.60m x 2.20m
This frame size can expand depending on optional additional features
AMB-M 36…60
Maximum power serviceable: 50MW
Dimensions, including service space: minimum 5.00m x 2.60m.
This frame size can expand depending on optional additional features
Tailor-made units for higher power output are available on request.
Heavy Fuel Oil (HFO) supply units
Standardised AMB-Mc -series units for compact spaces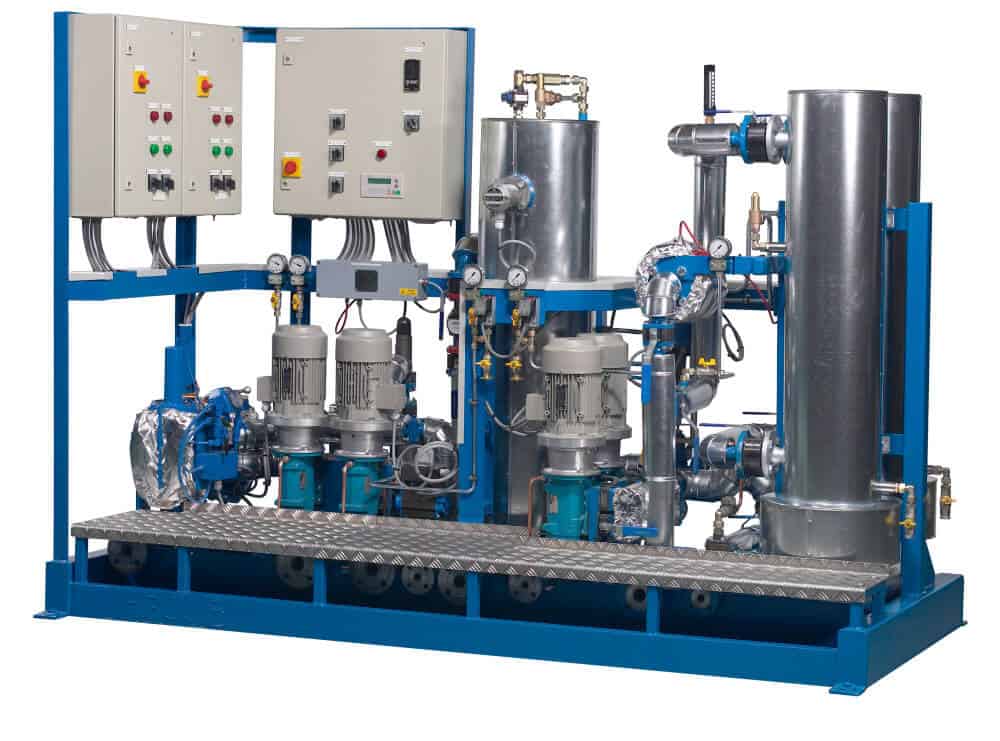 Key benefits and features of AMB-Mc-02/03/05/07 series units:
Cost-savings through standardised components
Easy maintenance: access is only required at the front and right-hand side of the unit
Maximum power serviceable: approx.10MW
Standard option comprises separate feeder and booster components
Can be used to supply fuel to either main or auxiliary engines
Dimensions, including service space: 1.50m x 2.90m
Customer-specific solutions with AMB-M -series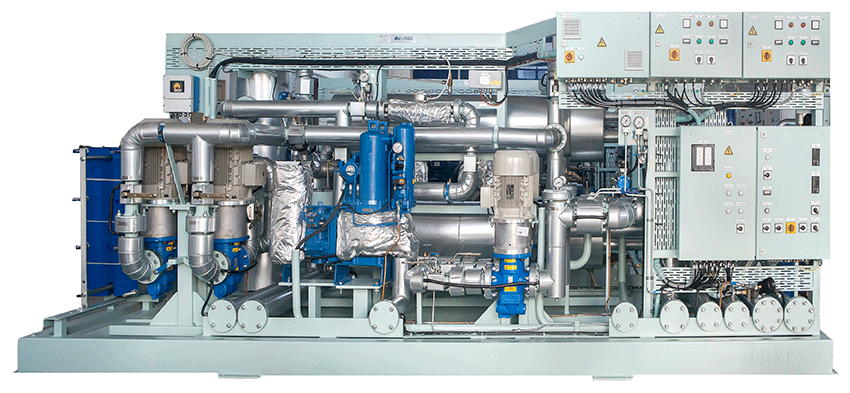 We work in close co-operation with customers and engine manufacturers to develop the best system configuration for every project. Fuel supply units from our AMB-M-series can be extensively customised to meet all fuel-conditioning needs. Depending on system requirements, they can be configured to accommodate Auramarine's wide range of heaters, coolers, flow-meters, marine diesel oil and marine gas oil emergency pumps, homogenisators and additional filters.
All AMB-M units are designed to reliably and simultaneously supply fuel to both main engine and auxiliary engines.
Flexible installations, easily maintained
AMB fuel oil supply units, also known as feeder-booster or circulation units, have versatile pipe connections fitted at the rear and front to enable easy installation. As standard, to meet any changing needs, it is possible to add new or extended functions at a later date.
All our units combine proven accessibility with ease of maintenance, from the service space around the unit to the user-friendly location of all displays and instruments. This extends to the horizontal location of heavy fuel oil heaters.
Key benefits and features:
Can be extensively customised to meet all fuel system-specific requirements
Proven reliability and safety from shell-type heaters and separate viscosity and temperature controls
Fast, easy installation delivered through a compact design and versatile connections
Easy operation: all important displays and instruments are visible at a glance
Long and extremely reliable service life from quality components, carefully chosen materials and advanced manufacturing

Marine Gas Oil (MGO) supply units
The first step towards low-sulphur operations without compromising engine health
Auramarine fuel supply units are ideally suited for operators using single-fuel marine gas oil (MGO) or for multi-fuel systems. Each system is configured to meet a customer's needs and backed-up by proven long-term reliability and operational performance.
The significantly different properties of heavy fuel oil (HFO) and low-sulphur fuels in multi-fuel systems require careful fuel condition management; an expert approach is essential. For example, the viscosity of all fuels must be stabilised and controlled through heating or cooling. This is crucial for engine and fuel system health.
In most marine diesel engines, the viscosity of the fuel needs to be at least 2.0 cSt. Heaters universally need to be used with HFO. For operators only using MGO, they are not usually required and Auramarine marine feeder booster units can also be supplied without heaters. However, due to its natural viscosity, when MGO is used, the fuel in the system needs to be cooled to meet engine viscosity and lubrication requirements.
Auramarine's solutions for controlled cooling comprise a cooler unit, a chilling unit when needed and a cooling water circulation unit, together they enable the fuel to be cooled to even below 20°C.
Key benefits and features:
For operators looking to switch to low-sulphur fuels, Auramarine MGO supply units can be fitted to both new and existing vessels
Easy and flexible installation either as independent components or a compact integrated unit, in both cases making good use of available free space
Turn-key deliveries available
Reliable, user-friendly operation
Proven design and quality components