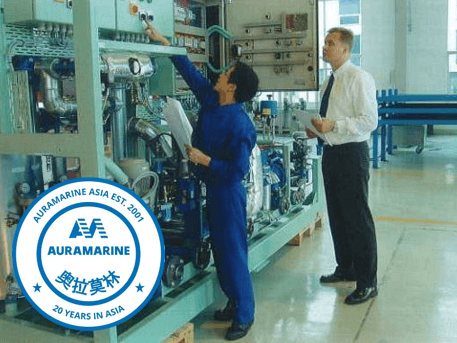 an interview with Isto Sakkara
It was back in 2001 that we first opened the doors to our manufacturing facility in Shanghai.
Spurred on by our determination to be at the centre of growth within the maritime industry and consequently closer to our Asian customers, the decision to establish our physical operations in China was hugely significant in terms of our positioning as a global organisation as well as a key driver for our own growth. This month, we are therefore extremely proud to celebrate the twentieth anniversary of Auramarine Asia.
Tell us about your background. How did you come to join Auramarine, and what has led you to cement your long career in the company?
I joined Auramarine in Finland back in the 1990s as Sales Manager. The opportunity to contribute to a market leading company, with its fuel supply units setting new industry standards for design, was what initially motivated me to join.
Likewise, the opportunity to establish Auramarine Asia, increasing our market reach and presence in the area, was a fantastic opportunity at that stage of my career. To this day, I have seen the company continue to evolve and lead the way in fuel supply units and expert engineering, and have a positive impact on the markets that it serves. I am excited to continue my career at Auramarine as it expands across different sectors and further develops its products to meet new market challenges.
What does this 20-year milestone mean to you personally?
From being one of the first Auramarine employees in Shanghai to watching the team and manufacturing base grow, celebrating 20 years of Auramarine Asia is a significant personal achievement, as well as a notable step in Auramarine's company history.
Can you tell us why Auramarine Asia was established and its importance in the region?
For the past 20 years, Japan, China and Korea have been recognised as some of the world's leading shipbuilding nations. We knew that establishing an Asian presence, and being close to this main market, would be critical if we were to offer a truly global and effective service proposition and deliver the best possible value to our customers. Indeed, proximity to our Asian customers was becoming more and more vital, especially to commission our systems and support installation at shipyards.
Exporting fuel supply systems 8000 km was simply no longer an option – we knew we needed to be on the ground.
What have been some of the biggest changes in the market since Auramarine branched into Asia 20 years ago? How has Auramarine stayed ahead of these new market demands?
China's growth and position in the shipbuilding market has been truly phenomenal and one of the biggest changes we have seen. When I started in Auramarine Asia, China had set itself a deadline of becoming the number one shipbuilding country in the world within 15 years. China reached this target in 10.
Our move to China was therefore simultaneous with the country increasing its market share.
In terms of maintaining agility, new partnerships with both clients and suppliers have been key to us evolving and staying one step ahead. We are now conducting vital research and development to ensure we are best placed to support ship owners and operators with the use of new low and zero carbon future fuels, and we are excited to continue playing an important role in the maritime sector.
What do you envision for the future of Auramarine Asia?
While it is important that we continue to expand our reach and support our customers in the maritime industry, and we are also looking to increase our market share in sectors that can also benefit from our fuel system expertise, such as the power and process industries.
On local expansion, our existing Asian customers recognise and value our high-quality products. We will therefore aim to further increase this reputation, while expanding our product range to support the use of future fuels.
If you could have told yourself one thing on the opening day of Auramarine Asia, what would it have been?
Moving to Shanghai all those years ago was an incredible opportunity, and an exciting challenge. If I could have told my past self-one thing, it would have been: the hard work will pay off more than you can ever imagine.
Looking at the capabilities of the factory now, the evolution of Auramarine's products and the truly fantastic team on the ground, I can wholeheartedly say that I am very proud to have played an important part in helping Auramarine Asia become the business it is today.
Interested in learning more on our recent news on Auramarine Asia? Check out our recent news on Tomi Julin's appointment to General Manager.
Follow also Auramarine WeChat account – scan the below QR code in WeChat app: