Auramarine's new spare part and modernisation catalogue out now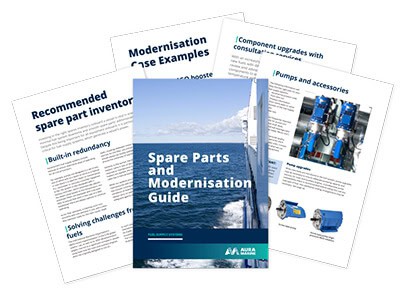 We are proud to announce the launch of the first edition of our spare part and modernisation guide.
We have collated all the information from our website, on our spare parts and modernisation service offering, and turned it into a handy pdf catalogue. The guide, which consists of 40 pages, offers an overview of our most popular spare and wear part offering, as well as on our modernisation. The catalogue includes information on a range of products, such as electric components, filters, flowmeters, gauges, heat exchangers, electric motors, pumps and accessories, valves and viscometers. The full Auramarine spare part inventory consists of thousands of items therefore if you cannot find a specific part in the catalogue, please do not hesitate to contact us directly.
From simple component upgrades to fuel supply system conversions and modernisations, the catalogue also includes insights and information on our range of modernisation services The parts of a fuel supply system that typically benefit from an upgrade are electrical components , control systems, filters, pumps and flowmeters.
At Auramarine we are committed to ensuring the operational efficiency of your vessel's fuel system throughout its entire lifetime. From design and delivery, to regular maintenance and the latest retrofits, we are here to support you at every stage of your vessel's journey and offer a complete, robust solution.
Auramarine's spare parts, lifecycle services and technical support are available worldwide, with our main hubs located in Finland and Shanghai, China, for rapid delivery.
Our global representative network is always ready, and at your service in over 25 countries.
Note: If you can not find the download link in your e-mail, please also check your junk e-mail folder and move the message to your Inbox for proper view.
For enquiries or any further information on spare parts and modernisations, please contact us at after.sales@auramarine.com.