Auramarine signs distributor agreement with THB Verhoef for AFE solution to enhance fuel efficiency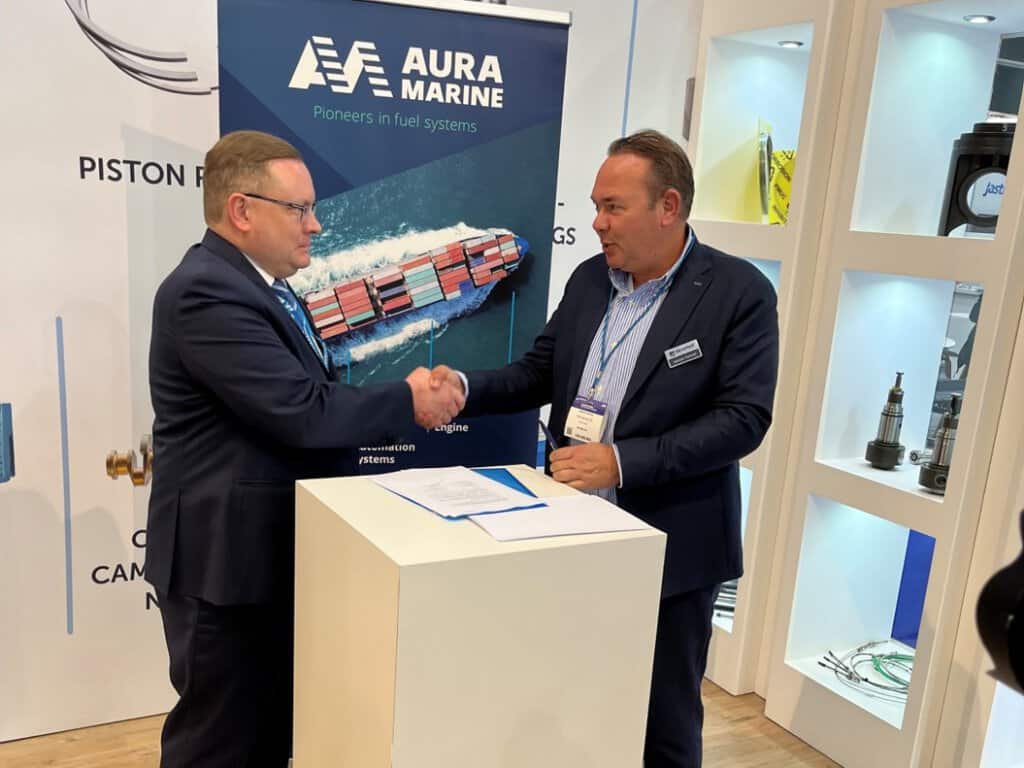 Auramarine Fuel Economiser solution enables GHG emissions savings of up to 20% while supporting and complementing CII calculations
 Lieto, Finland 7.11.2023. Auramarine, the leading provider of fuel supply systems for the marine, power and process industries, today announced a representative agreement with the Dutch company THB Verhoef.
The agreement will see THB Verhoef become an official sales agent and distributor for the Benelux region and Greece, selling and promoting Auramarine's newly launched Auramarine Fuel Economiser (AFE) solution, including spare parts and installation services.
Commenting on the announcement, John Bergman, CEO, Auramarine said: "Like Auramarine, THB Verhoef has a long history and experience of successfully serving the maritime industry with an innovative and customer-driven approach. – Like us, they understand the pressures that ship owners and operators face in increasing operational efficiencies, reducing costs and emissions and meeting increasingly complex regulatory requirements. – We are confident that they will be able to provide us with excellent support in taking our new AFE solution to market and helping our customers overcome these challenges and to thrive.
"As the largest stockist for Europe's leading Original Equipment Manufacturers for spare parts, Auramarine's AFE solution perfectly complements our offering.  – We very much look forward to working closely with them and the wider industry to bring this important solution to market at such an important time for shipping," said Adriaan Verhoef, CEO, THB Verhoef.
Auramarine AFE is a data collection solution that enables ship owners and operators to proactively analyse and identify where fuel consumption and emissions can be reduced, delivering savings of between 5% and 20%.  – The AFE monitors and measures the entire fuel consumption of vessels across a whole fleet, collecting data from fuel and power-related systems on board.  It also reduces complexities and makes data collection easy for accurate reporting purposes in line with environmental regulations such as the International Maritime Organisation's (IMO) Carbon Intensity Indicator (CII).
The AFE is an independent system and can be applied to any vessel regardless of the engine or fuel supply system that it is using. It can be integrated into most onboard systems and can be retrofitted in as little as two days.
---
ENDS
Notes to Editors
About Auramarine Ltd
Auramarine is the trusted fuel and auxiliary systems expert for the marine, power and process industries. Our proud heritage stems from the company's foundation in Finland in the early 1970s. Since then, Auramarine has delivered more than 15,000 robust and reliable auxiliary systems to our customers all over the world, continuously aiming for superior service and customer value. Auramarine has more than 100 employees with offices in Finland and China, and representatives in more than 25 countries. www.auramarine.com
About THB Verhoef
THB Verhoef has a rich history of providing high-quality products and services to customers in the Maritime Industry. Founded by Adriaan Verhoef's parents nearly 50 years ago, we have grown to the preferred destination as the authorized distributor and premier stockist for the leading main European Original Equipment Manufacturers for spare parts. Our commitment to fast deliveries from our large stock, quality assurance, and continuous improvement in all our processes has earned us a reputation for excellence in the industry. We continue to uphold these values and drive our business forward, ensuring that we remain at the forefront of the market. At THB Verhoef, we pride ourselves on our deep expertise and knowledge of the industry, which allows us to offer our customers unparalleled service and support.
Click here to find out more about the Auramarine Fuel Economiser
Issued by BLUE Communications, on behalf of Auramarine
For media enquiries or interviews, please contact:
Nick Blythe
+44 7917 138 723
Victoria Aballe
Victoria.aballe@blue-comms.com
+44 7849 842 075