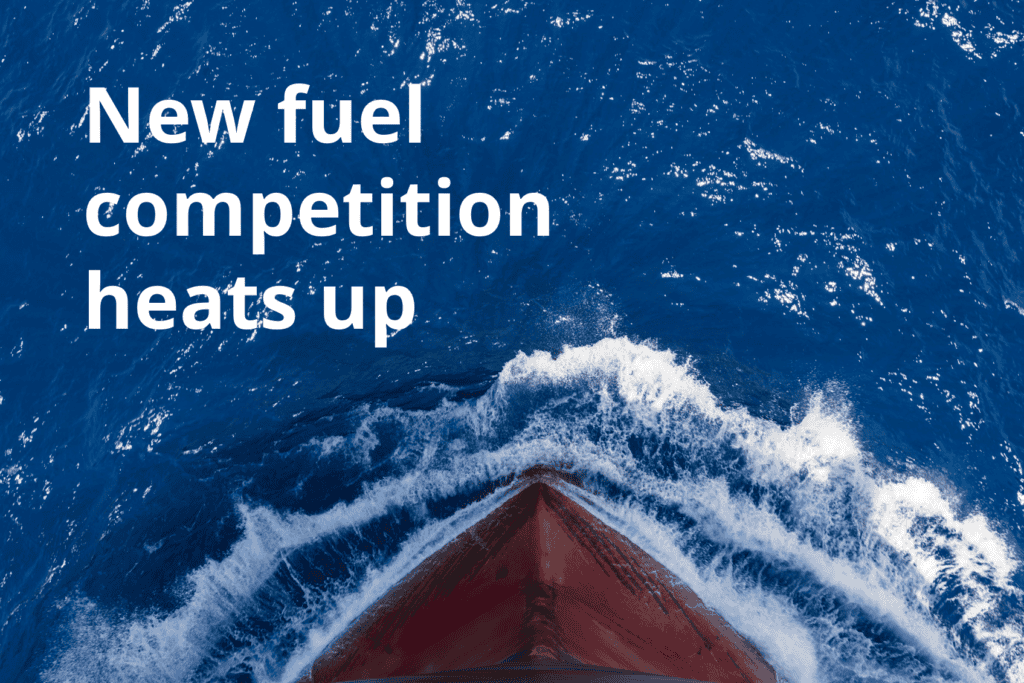 The competition between LNG and methanol as a future shipping fuel is already underway; ammonia will be the next contender, says Auramarine CEO, John Bergman. 
Please find a link to the original China Ship Survey Press article  (in Chinese) HERE.
Of the alternative-fuelled vessels currently on order, LNG remains the most popular choice, representing 72.7% of the total alternative fuelled newbuilds ordered. However, methanol is catching up, and ammonia is also a strong contender. 
If we only consider contracts signed in 2023, methanol has surpassed LNG and represents 8% of the newbuilds. Based on today's orderbook, by 2028, we expect to see 25 methanol-fuelled vessels in operation and a further 81 on order. There is good reason for this. Methanol offers simple handling and storage and reliable combustion. If bunkering infrastructure and supply is scaled up sufficiently, methanol will have the ability to meet the industry's 2030 decarbonisation goals, and further development into green methanol could offer a path to a zero-carbon future for shipping.  
 At Auramarine, we have already developed a fuel supply unit to support the uptake of methanol which has received significant interest among ship owners, operators, OEMs and shipyards. Projects are expected this year, and to support the demand we anticipate, our new factory in Shanghai has a dedicated production line for methanol fuel supply systems. The total capacity of our new factory is up to 500 fuel supply units for various fuel types per year. 
The new factory will also act as a base for our research and development programme, because, without a "silver bullet" solution, we know the industry will need more than one new fuel to satisfy its diverse needs. Ammonia is starting to gain traction, as it is inherently zero-carbon. According to Clarksons, more than 130 orders have been placed for ammonia-ready vessels globally. New ship designs are emerging, and technology development is proceeding at pace.  
Infrastructure is not yet available for large scale uptake, and further research is required, but throughout 2023, we expect to see more developments in ammonia as a marine fuel as the technical challenges are resolved. At Auramarine, we are participating in that process. We are developing an ammonia fuel supply unit to ensure ship owners can have confidence in this fuel choice.  
However, despite growing interest in other fuels, LNG is still the most advanced option and transition fuel to date. Supply and infrastructure are already in place, and it is globally available. It can immediately reduce Greenhouse Gas and SOx emissions compared to fuel oil, and it ensures compliance with emissions reduction regulations – for example the IMO's Global Sulphur Cap.  
Its popularity has waned somewhat due to the impact of Russia's invasion on Ukraine which led to substantial price rises. Weak demand from China resulting from the nation's stringent lockdown restrictions have also had an impact. Despite this, research from DNV indicates that "against all odds, 2022 turned out to be almost on par with the record year of 2021 for LNG-fuelled ship orders." 81% of all vessels ordered with alternative fuels last year will run on LNG. And as prices become more competitive, and cleaner variants – such as bio-LNG and synthetic LNG – become available, the outlook will become even more positive.    
It is important that the maritime industry has the tools and partners it needs to safely manage the uptake of LNG as the marine fuel supply chain transforms. All LNG vessels  require a back-up fuel supply system and dual-fuel LNG engines require diesel pilot fuel. Auramarine's Pilot Feeder Units (PFU's) are crucial in securing a steady supply of pilot fuel to the engine's combustion chamber, and the MGO/HFO Fuel supply units safeguard operations as back-up for the LNG/LPG system as required by rules and regulations. The units therefore enable flexibility and redundancy. 
The new fuels market is projected to grow in 2023, driven by global awareness of the acute climate challenge, but also regulatory changes and pressure from cargo owners, charterers and the financial community. For example, China's biofuels market is likely to see strong growth between now and 2031; the key driver being the growing need for cleaner fuels in cities and ports to reduce GHG emissions.  
As a sustainable fuel, biofuels are valuable in the short to medium term, particularly as blends. It is worth noting that although biofuels can be used as marine fuels in the same way as conventional fuel oils, they have some properties that need to be considered before taking them into use. Biofuels can be corrosive and every element of material used in a fuel supply system must be scrutinised and examined to ensure a safe environment for the fuel. We expect to see a greater volume of biofuel bunkering on a global basis this year and continued development work to upscale its infrastructure. As a sustainable fuel, biofuels are one of the most feasible future fuels. A thorough and consultative approach is required to find the best solution for each ship and to avoid any negative impact to the ship's fuel systems. This year we expect to see an increasing number of biofuel trials and partnerships with the intention of driving collaboration and alternative fuels.  
Not all new fuels will be available simultaneously; Methanol is currently available in more than 100 major ports and LNG is offered in around 150 ports. Large scale introduction of biofuels (and ammonia in the future) still requires efforts and collaboration between engine and fuel system manufacturers, biofuel suppliers, ship owners and infrastructure. Many ship owners are therefore hedging their options. Ocean Network Express (ONE), for example, ordered 10 container ships that will be ready for using methanol or ammonia as fuel.  
The scaling up of low and zero-carbon fuels is moving in many positive directions, but the bunkering infrastructure will take time to develop to ensure availability and supply at the right price. 
To support the varied needs of ship owners, Auramarine takes a holistic, fuel agnostic and collaborative approach to our fuel supply systems. We want to ensure there will be technology available to support all the fuel choices emerging. 
---
Read more about Auramarine solutions for Marine Industry: Marine industry – Auramarine