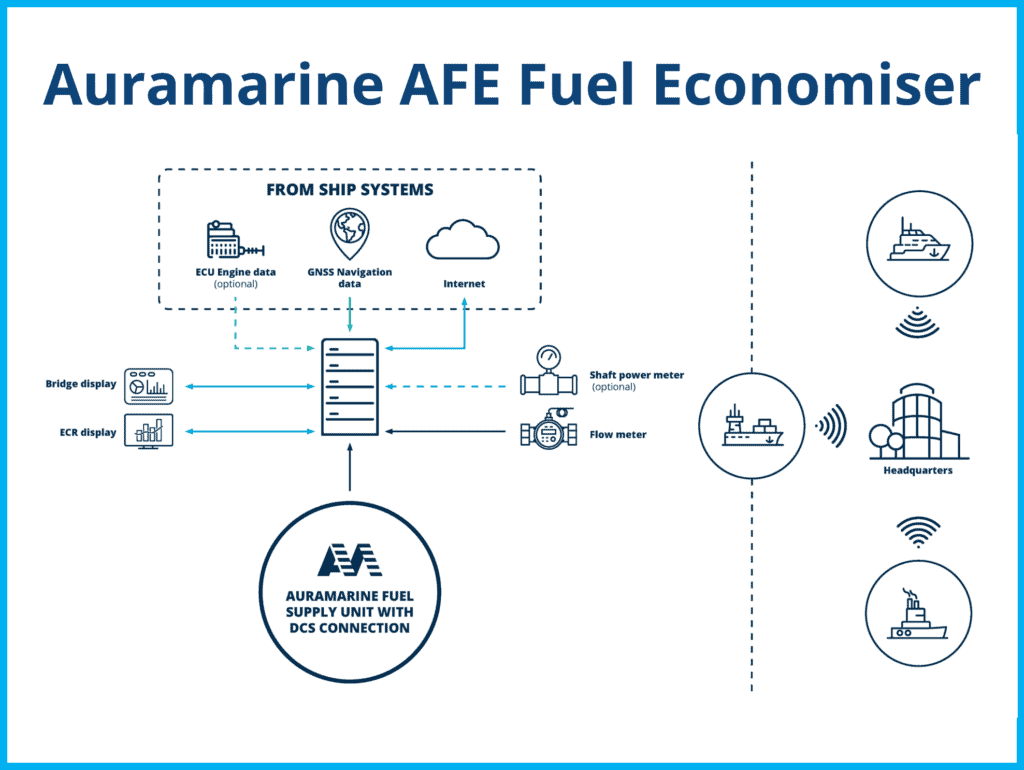 Auramarine launches fuel economiser solution to reduce fuel consumption and CO2 emissions. New data collection solution enables savings of up to 20% as well as supporting and reducing the complexity of CII calculations
 Lieto, Finland – 26th October 2023: Auramarine Ltd, the leading fuel supply systems pioneer for the marine, process and power industries has launched its new Auramarine Fuel Economiser (AFE) solution.  The AFE enables ship owners and operators to proactively analyse and identify where fuel consumption and emissions can be reduced, delivering savings of between 5% and 20%.
Auramarine's AFE monitors and measures the entire fuel consumption of vessels across a whole fleet, collecting data from fuel and power-related systems on board, from main and auxiliary engines to gas turbines, boilers, and inert gas generator regardless of whether a vessel is in operation or not.  Data is collected on myriad of areas including the type of fuel oil used, consumption, volume, mass information, viscosity and temperature behaviour, as well as shaft power meter and engine data.
The AFE reduces complexities and makes data collection easy for accurate reporting purposes in line with environmental regulations such as the International Maritime Organisation's (IMO) Carbon Intensity Indicator (CII), as well as improving fuel economy and onboard processes.  This includes highlighting opportunities to reduce fuel consumption; optimising operations by analysing fuel profiles and fleet utilisation; identifying areas for enhancing safety as well as professional development; preventing unnecessary wear; and analysing Auramarine's onboard equipment data for planned and preventative maintenance.
Commenting on the launch, John Bergman, CEO, Auramarine, commented: "We understand that it is incredibly challenging for ship owners and operators to manage the process of compliance in relation to new regulations such as CII and EEXI, while also looking at immediate and long-term mitigation strategies to reduce their carbon footprint, as well as focusing on their day-to-day operations.  This is in conjunction with managing the differing requirements of carbon emissions monitoring, reporting and verification regulations driven by EU MRV and IMO DCS, which creates additional complexities and challenges for personnel tasked with reporting responsibilities.
However, while ensuring compliance can be a challenge, it also presents the opportunity to implement technical and operational solutions to maximise vessel performance.  And in doing this reducing fuel consumption, and associated costs and emissions, as well as harnessing data in a consistent, and reliable way that provides actionable insights that are required for reporting but also enable the very best decision-making that improves operational efficiencies."
Strides have been made towards delivering shipping's decarbonisation, with renewed and more ambitious targets set at the IMO's recent Marine Environmental Protection Committee meeting (MEPC80).  And in line with CII regulations, from March 2024, vessels above 5,000 GT will receive ratings from A to E, with the latter representing the least efficient ships. Thresholds will become increasingly stringent through to 2030, including from other regulatory bodies such as the European Union.
John Bergman continued: "While ship designs have improved markedly and clean technology has seen more widespread uptake in the past few years, this route often requires significant capital injection.  Of course, it is critical that every aspect to improve performance must be considered, however, operational factors, such as onboard power management, do not require expensive investment but can take ship owners and operators far in their fuel and emissions saving ambitions.  Auramarine's AFE is an example of this type of solution, which is a critical part of the battle for emissions reduction and in meeting decarbonisation targets."
The AFE is an independent system and can be applied to any vessel regardless of the engine or fuel supply system that it is using.  It can be integrated into the majority of onboard systems and can be retrofitted in as little as two days.
The launch of the AFE represents Auramarine's lifecycle approach to working with its customers and the wider market to provide end-to-end solutions that support them in navigating the significant transformation in the shipping industry; from software that supports reporting for emissions regulations and generating operational efficiencies; market leading hardware and capital equipment such as fuel supply systems that supports the safe delivery of current and future fuels; and installation and ongoing lifecycle support that ensures the integrity and performance of its solutions.
ENDS
---
Notes to Editors
About Auramarine Ltd
Auramarine is the trusted fuel and auxiliary systems expert for the marine, power and process industries. Our proud heritage stems from the company's foundation in Finland in the early 1970s. Since then, Auramarine has delivered more than 15,000 robust and reliable auxiliary systems to our customers all over the world, continuously aiming for superior service and customer value. Auramarine has more than 100 employees with offices in Finland and China, and representatives in more than 25 countries. www.auramarine.com
Issued by BLUE Communications, on behalf of Auramarine
For media enquiries or interviews, please contact:
Nick Blythe
+44 7917 138 723