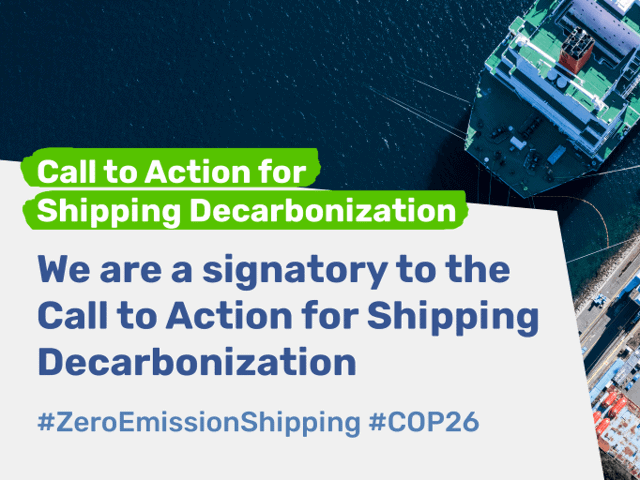 Auramarine joins more than 200 organisations as a signatory for the Call to Action for Shipping Decarbonisation. The initiative calls on governments to collaborate with the maritime sector to achieve decarbonization of shipping.  
Auramarine is globally recognised as a leading provider of critical fuel supply and handling solutions and related lifecycle services in the maritime and offshore industries. In those industries, our primary customers are shipowners and operators, shipyards and engine manufacturers. We also serve the power and process industries.
One of Auramarine's climate targets is to help drive the decarbonisation of the maritime industry by supporting its clients in meeting their ambitious climate targets through the onboarding of zero carbon fuels on their vessels.  As a critical fuel supply system provider, Auramarine recognises its position as an enabler for change. Indeed a core element of our company's growth strategy to 2026 is focused on becoming "the preferred partner and supplier for leading players in maritime, power and process industries, with a strong foothold in the new marine fuels".  Over the next five years, we will apply our leading expertise in fuel supply and handling solutions to develop the most viable systems to utilise zero-carbon fuels.
Auramarine's actions are:
Developing safe and efficient fuel supply and handling solutions for zero carbon fuels
Since 1974  Auramarine has delivered over 15,000 reliable, high-performance units to clients all over the world. Its solutions deliver operational efficiency, safety and reliability throughout their lifetimes. The properties of new fuels, such as ammonia, methanol and sustainable biofuels, differ from those of traditional marine fuels. At engine inlet, all fuels must meet the requirements set by the engine manufacturer. It is crucial for safe and viable utilisation of the new zero emission fuels to take these properties into consideration when designing and manufacturing fuel supply systems.
As a leading provider of fuel supply systems, Auramarine will support shipyards, ship owners, ship operators and engine manufacturers to meet their GHG reduction and decarbonisation targets by developing and co-developing solutions for safe and efficient use of new fuels.
 Contribution on industry led decarbonization initiatives
Auramarine is committed to supporting the uptake of biofuels in the maritime industry as part of the VTT and Business Finland BioFlex project. The three-year collaborative project aims to determine the most ecologically sustainable way to evolve the marine energy supply chain and replace fossil fuels.
Working alongside research centres, fuel suppliers and engine manufacturers, Auramarine will analyse the impact of biofuel on a vessel's fuel supply units to ensure that every element of material and process used in a vessel's fuel supply unit is examined to enable a safe and effective environment for the fuel. This is important in order to provide owners and operators with the confidence necessary to invest in biofuels as part of their roadmap to zero emissions.
Read more about the Call to Action for Shipping Decarbonisation on Global Maritime Forum website.