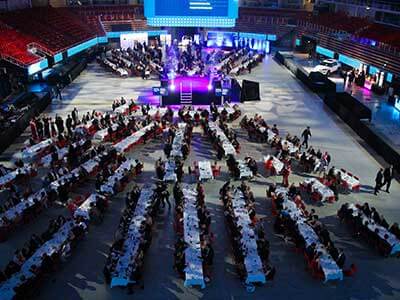 The non-profit organisation encourages and motivates people to care for their wellbeing through exercise and sport.
Every year, the organisation arranges a yearly Most Active Workplace competition to help ensure working people are living a healthy, well-balanced lifestyle. In LiiKU's Most Active Workplace survey, Auramarine received the most points for its region, and our very own HR Manager Veera Ekuri and CFO Simo Pietilä received the award during the Turku region sports gala on March 19, 2022.
Auramarine has always actively invested in the wellbeing of its workforce by encouraging people to keep fit. A range of activities have been carried out at Auramarine, both in the office and from homes as people worked remotely throughout the pandemic, to support personnel wellbeing.
This includes encouraging staff to take exercise breaks during their workday, offering ergonomics guidance, and conducting fitness and body composition analysis with follow-up programs for those who want them. In addition, we share welfare ideas through our internal channels, offer sports and culture vouchers, as well as the opportunity to try a variety of new sports.
We are extremely grateful to all our employees for their active participation! We will continue to find innovative ways to support healthy habits and the wellbeing of our team.