Auramarine delivers milestone 15,000th order for fuel management auxiliary units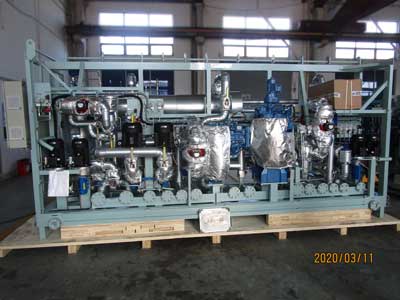 Turku, Finland, 08 April, 2020 – Auramarine, the leading provider of fuel supply systems for the marine and power industries, today announced a landmark delivery of the 15,000th unit of its pioneering fuel supply and management auxiliary systems. The development reflects the significant increase in shipowners' mindset in effectively managing the momentous transition within the marine energy supply chain following the implementation of the global sulphur cap on 1st January 2020. 

The 15,000th fuel supply unit is an Auramarine Feeder Booster for the marine industry, designed for a 22 MW powered engine, with steam-heating and electrically-driven add-on pump for MGO and MDO.  

The delivery took place on 11th March 2020 to a Korean shipyard for installation on the newbuild 2500 TEU container ship of a reputable Korean transportation company. The ship is the first one in a series of container vessels that will be launched later in 2020.  

Auramarine's auxiliary units have consistently delivered safe and efficient fuel system management, enabling owners and operators to effectively manage the health of the vessel when handling fuel temperature and viscosity to avoid costly damage, unplanned downtime and associated safety issues. 

Auramarine, together with its representative network in more than 25 countries, works in close partnership with ship owners and operators to ensure that fuel management systems are fit for purpose and provide reassurance that the operational integrity of their vessels is maintained.   

"We feel honoured to have long-term partnerships with our clients. Such partnership is incredibly important in a changing regulatory environment and shows the continued success of our company" says Jouko Salo, CEO, Auramarine. 

Auramarine has gained in depth insight and knowledge on some of the key challenges that the shipping industry faces, and the impact that they have on shipowners' operations. The company continues to work closely with its customers to design and deliver fuel supply systems to guarantee efficient combustion and to mitigate various combustion system risks. Moreover, Auramarine constantly works to identify and provide services that ensure safe and compliant fuel supply systems to best meet the changing needs of shipowners and operators in 2020 and beyond.  
NOTES TO EDITORS

Auramarine is the trusted fuel systems expert for the marine and power industries. Our proud heritage stems from the company's foundation in Finland in the early 1970s. Since then Auramarine has delivered over 15,000 robust and reliable auxiliary systems to our customers all over the world, continuously aiming for superior service and customer value. Auramarine has over 100 employees with offices in Finland and China, and representatives in more than 25 countries. 

For more information please visit www.auramarine.com

Media Enquiries 
Diane Parlapiano 
BLUE Communications
T. +44 (0) 1865514214
Email: Diane@blue-comms.com