On April 19, 2023 the grand opening ceremony of Auramarine Asia's new factory was held in Jinshan, Shanghai in China. More than 100 guests, including representatives from the Finnish and Chinese governments, as well as Auramarine's customers and partners, gathered to celebrate this momentous ceremony.
The Consul General of Finland in Shanghai Anu Vuori-Kiikeri, Commercial Counselor at the Embassy of Finland in China and Head of Region East Asia & India at Business Finland Jusa Susia, Deputy General Manager at Shanghai Bay Area High-tech Zone, Xu Wei, Business Attraction Director at Shanghai Bay Area High-tech Zone Sun Meiyun, Executive Director at FinnCham Shanghai Ville Lintervo, Senior Advisor at Business Finland Tan Liwei, General Manager at Finchi Joan Zhang, and other esteemed guests from customers and partners such as Huahai, were present.
CEO at Hollming Group and Chairman at Auramarine's Board of Directors Jouko Salo, CFO at Hollming Group Jonna Kallioniemi, CEO at Auramarine John Bergman, and General Manager of Auramarine Asia Arto Savolainen also joined the event with other colleagues and representatives from both Auramarine Headquarters in Finland and the Auramarine Asia team.
John Bergman, CEO of Auramarine delivered opening remarks at the ceremony. He said: "Today marks a significant milestone for our company as we look to increase our production capacity in a way that best supports the marine, power, and process industries. From these new facilities, we will continue to provide our clients with the high-quality products and services that they need to be successful within the rapidly changing markets they serve."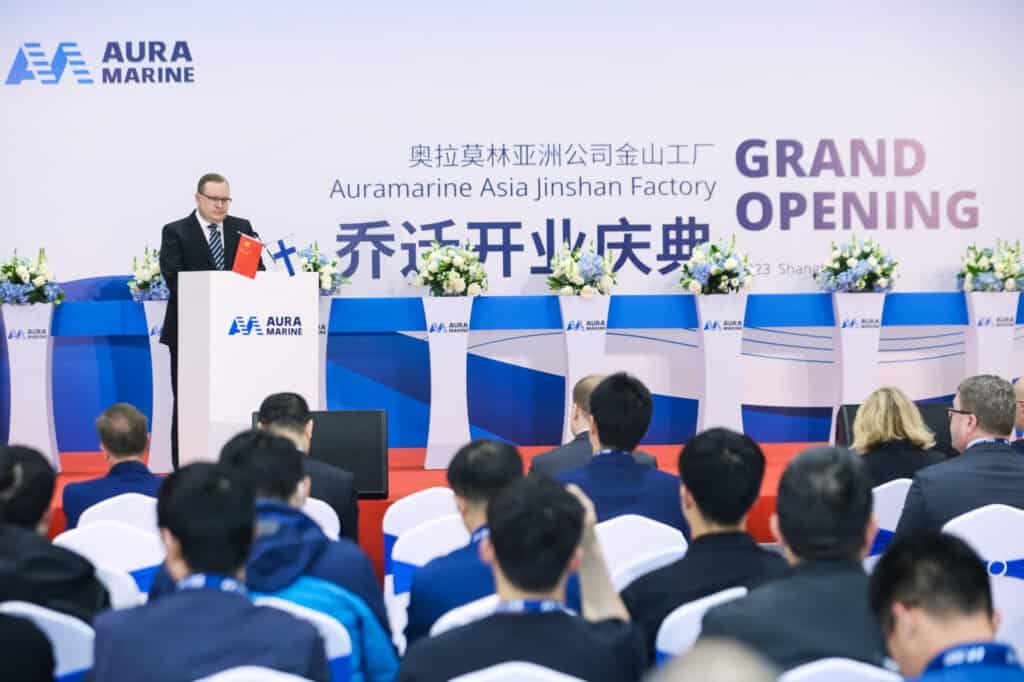 Jouko Salo, CEO at Hollming Group and Chairman at the Auramarine Board of Directors, outlined the future of Auramarine in the next decades. He said: "Our vision for the next 20 years is ambitious. At Hollming Ltd and Auramarine, we are enthusiastic about the opportunities that lie before us. The need to lower emissions in shipping and in society will open new possibilities for us. We believe in the transformative power of collaboration, and we will continue to work closely with our clients, partners, and employees in China. Through our collective efforts, we can drive progress, foster innovation, and create lasting value for all."
Arto Savolainen was appointed as the new General Manager at Auramarine Asia in April, and commented: "As the fast-moving demands and transitions in our industries continue, we must maintain our commitment to continuous improvement and development. This includes our processes, quality, and delivery times to meet customer needs. To achieve this, we will remain committed to staying at the forefront of innovation and will continue to invest in our people to ensure that we have the skills and knowledge to always provide the best possible products and services."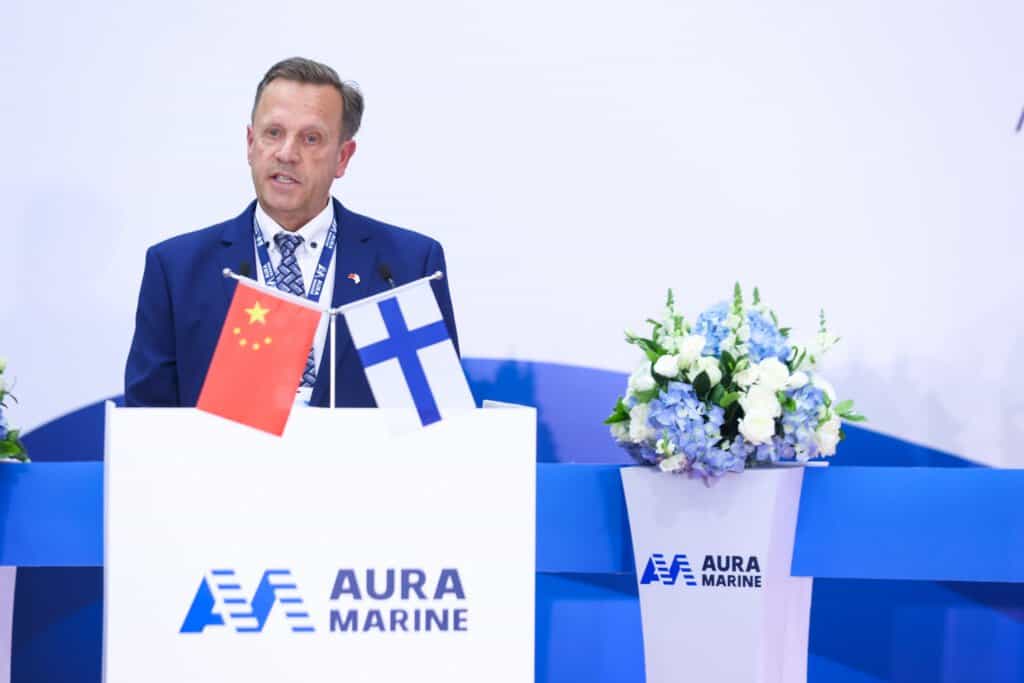 The Consul General of Finland in Shanghai Anu Vuori-Kiikeri, extended her warmest congratulations to Auramarine in her speech: "Over the years, we have worked closely with Finnish and local companies and authorities to identify and seize opportunities for cooperation, and Auramarine's Jinshan factory opening is a testament to our successful collaboration. The opening marks an important step forward not only in Auramarine's operations but for the Finnish business community in general."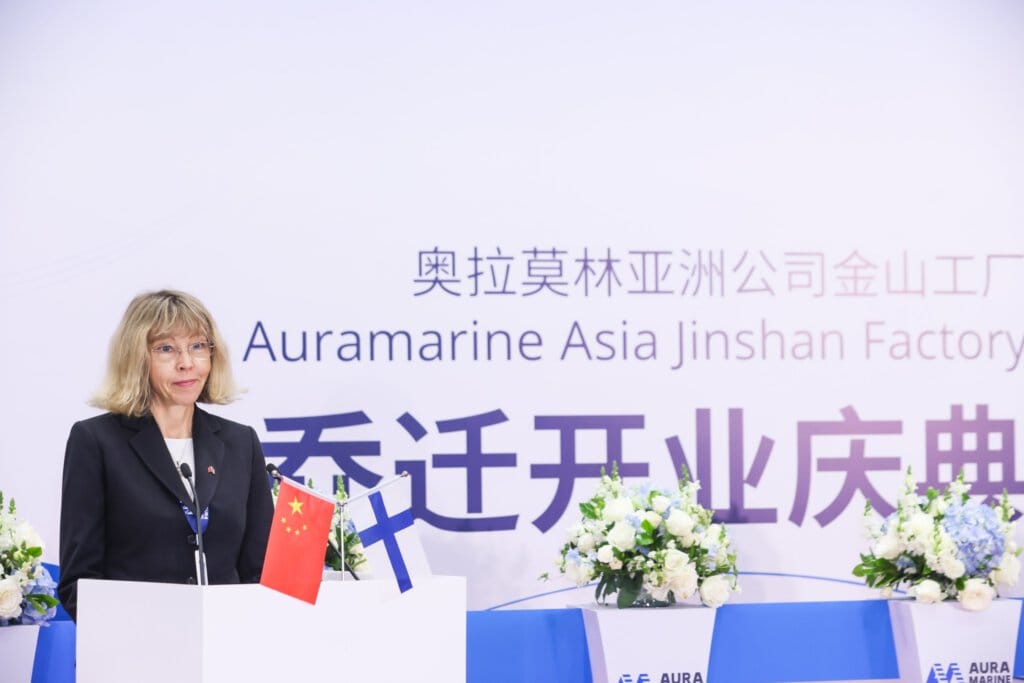 Xu Wei, Deputy General Manager of Shanghai Bay Area High-tech Zone, also extended congratulations on behalf of Jinshan government, saying: "This year marks the 20th anniversary of the establishment of the high-tech zone. The high-tech zone is now more vibrant with Auramarine's settlement. We will continue to do our best to provide gold medal level "waiter" services, striving to create a business environment conducive to the long-term development of the enterprises and to help Auramine thrive in the high-tech zone."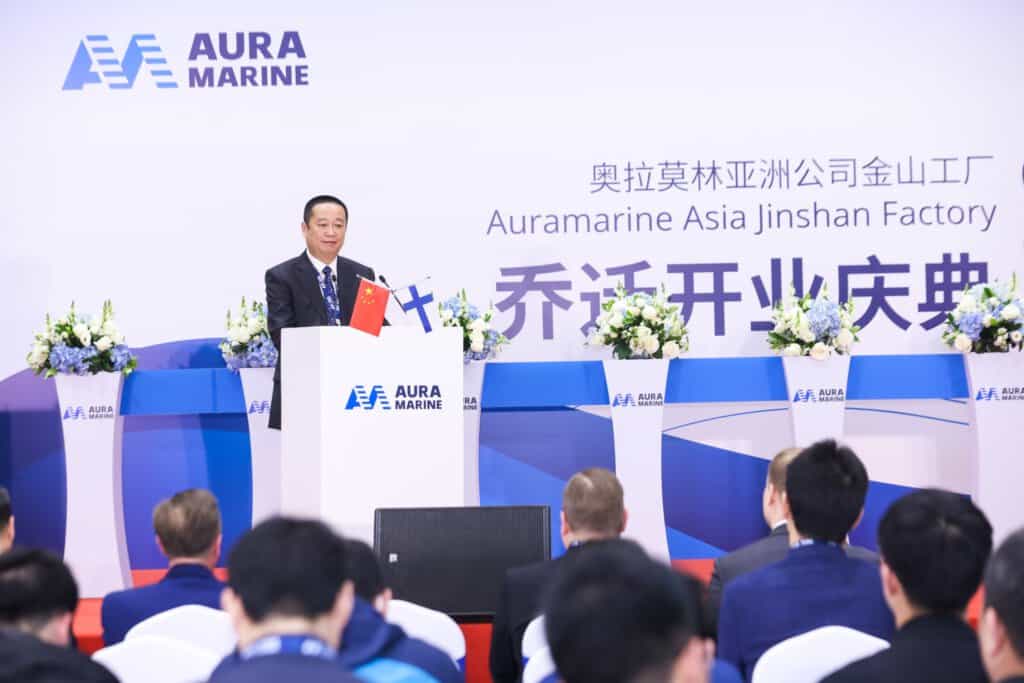 The ceremony also included a ribbon cutting, lion dancing performance and other programs. There was also a special product unit exhibiting area, where all guests could get a close look at the high-quality and advanced product units of Auramarine.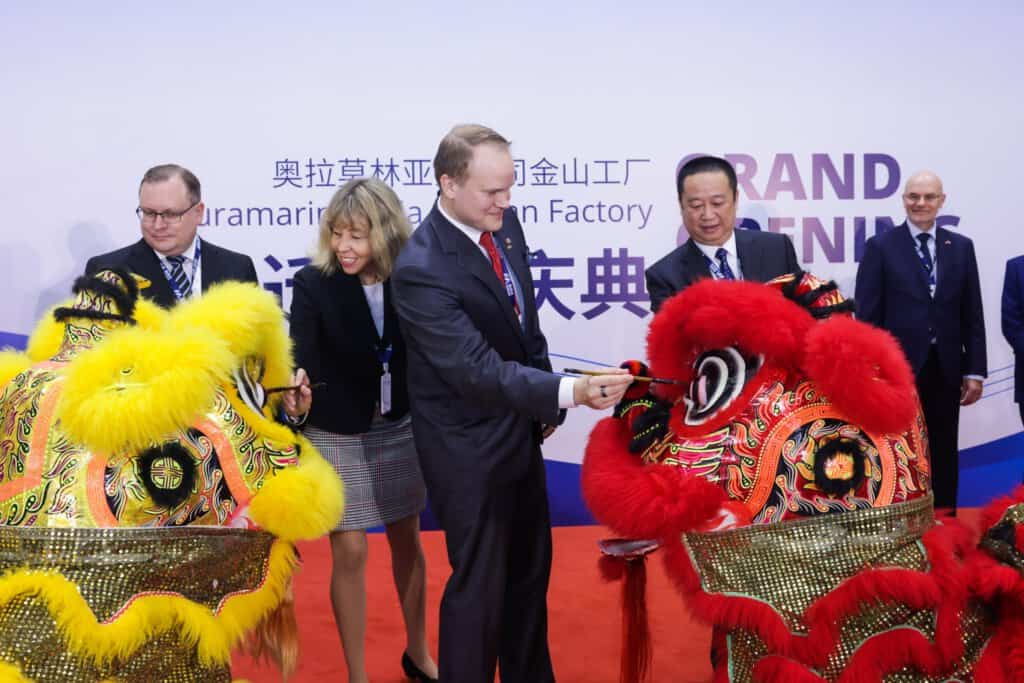 Auramarine is the leading global provider of fuel supply systems and other critical auxiliary equipment for the marine, power and process industries. Auramarine Asia was established in Shanghai in 2001 and relocated to the new Jinshan facility in early 2023. The factory is expected to have the capacity to deliver up to 500 units per year. It also features a separate dedicated manufacturing line for its fuel supply units for methanol consumers, striving to support the marine, power and process industries with meeting their decarbonization goals and accelerating the uptake of future fuels.