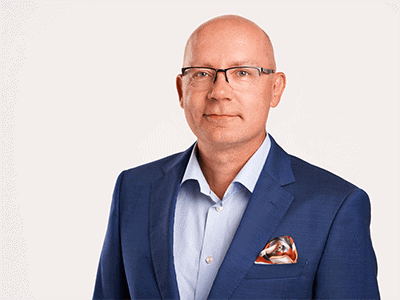 Auramarine Ltd is pleased to announce the appointment of Mr. Tero Korpi, (M.Sc. (Econ)) as the Group's new Chief Financial Officer (CFO) from August 1, 2022. Prior to starting his new role at Auramarine, Mr. Korpi worked as CFO at Nordic Rescue Group.  
Reporting to Auramarine's CEO Mr. John Bergman, Mr. Korpi will be responsible for the Group's financial activities, strategic development and implementation of the company's ICT infrastructure. He is also a member of Auramarine's Management Team. 
Commenting on his appointment, Mr. Korpi said: "I'm looking forward to working with the dedicated people and world-class products at Auramarine in Finland, especially at a time where we seek to source and deliver solutions to support the green transition. The use of methanol as a fuel to make this business is fascinating, I am excited to share my experience from working with global manufacturing companies for the benefit of Auramarine and to learn from my new colleagues."  
Mr. Bergman also comments: "We're delighted to welcome Tero to our impact-driven team at Auramarine. Tero has vast experience in various CFO roles, as well as ICT and HR management, which will enhance our financial performance and growth development. Tero's experience, together with our colleagues, will contribute to taking Auramarine to the next level where we will continue to make positive strides towards supporting the uptake of green fuels and sustainable solutions for the marine, power and process industries." 
Auramarine Group consists of Auramarine Ltd in Finland and Auramarine Asia Ltd in Shanghai.