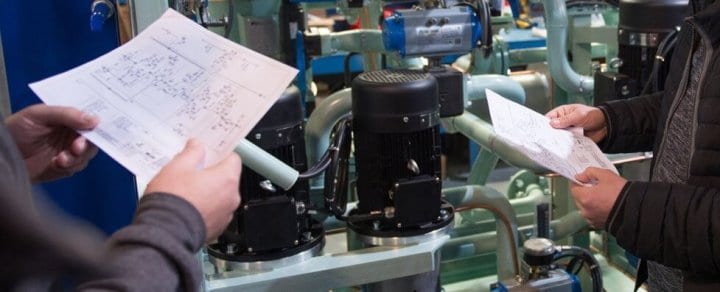 – How to know which spare parts to order for your onboard inventory?  Well, you don't necessarily have to know:
"Obviously, having the right spares inventory on board pays off in terms of minimized fuel system downtime and smooth spares administration. This goes for all equipment, but is particularly important for the fuel supply system, the proper function of which is critical for the ship's power and propulsion", says Konstantinos Fakiolas,  Director of Global After Sales at Auramarine Ltd.
Critical spare parts
The importance of a proactive approach was highlighted recently also in the  Oil Companies International Marine Forum (OCIMF) guidance (First edition 2018) stating that it is "recommended that an appropriate inventory of safety critical spare parts is carried on board the vessel at all times".
To manage the onboard inventory and safeguard the proper fuel system function Auramarine has introduced an application that assesses the ship's spare parts need for a given period, and automatically suggests a tailor-made spare part kit for each particular fuel supply system. You don't need to guess anymore. "The assessment is based on our decades-long knowledge of spare part consumption and knowledge of the fleet. Because no ship is alike, it also takes into account the ship-specific features. The final decision of order content is of course up to the customer.  The service has been in the market for less than a year now and the ship owners and operators are starting to see the benefits", explains Fakiolas.
Built-in redundancy
Having said that,  Auramarine fuel supply systems by nature comprise backups or alternative ways of operating for all critical functions.
"Pumps are designed in a set of two, one of which is redundant to serve as backup in case of repair or maintenance need. In case of  viscometer or viscosity controller failure, the system is equipped with a backup controller which automatically adjusts the steam valve based on the temperature. Our automatic filters are usually equipped with a by-pass filter, so even in case of a filter breakdown there are options to continue operating temporarily.  As for filter elements, a cleaning cycle runs smoothly with one element in use and a cleaned one ready  for the next round. Shaft seals, couplings (between motor and pump) and seal kits for the filter are critical spares that always should be at hand on board.
In the same way as the pumps, also the electric motors and the heaters come in sets of two allowing redundancy in case of repair or maintenance. If steam heaters are applied, the automatic steam control valve has a manual backup valve", summarises Service Engineer Sami Kaveri. 
Safe and reliable fuel system operation is and has always been Auramarine's main goal and we do our utmost to keep your engines going in any circumstances. Our systems comprise well-thought redundancy and backups but even so, the vessel should always carry an optimised set of critical spares.
Here's how to deal with some of today's challenges
The recent developments have lead to a situation where the ship's main and auxiliary engines may originally have been designed to run on fuels, the properties of which differ from the fuels that are favoured today. Such fuel properties may cause clogging of filters. For this reason especially the filters need to be controlled regularly. 
Whichever fuel the ship uses, a marine gas oil supply system is needed for pilot fuel. It is also a good backup system for scrubbers. A marine gas oil supply system can also be retrofitted.
Accurate and properly calibrated flowmeters support the current requirements for monitoring and reporting of fuel consumption. If you are considering a flowmeter update, make sure that the meter is the best fit for your system.
Benefits of planned spares administration and maintenance
In addition to operational aspects, smooth spares administration can bring benefits also from administration point of view. While shipping is slowly recovering, the trend of consolidations often means joint technical management and procurement. It makes sense to leverage economies of scale for planned fleet maintenance, better spares availability and system condition monitoring.  Depending on the scope, extended levels of technical support or discounts on e.g. retrofits can be included.
To summarise, planned maintenance and spares administration help to achieve compliance with today's multiple requirements. Planning ahead improves operational safety and minimises the need for often costly ad-hoc calls or deliveries. This is certainly appreciated by charterers and insurers, too.
"In these times we are committed to come up with customer-specific solutions that support our customers operations throughout the lifecycle of our products", concludes Fakiolas.
Read more about our lifecycle services.