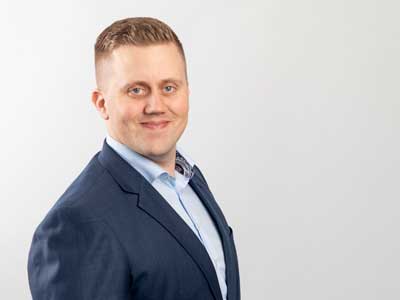 Auramarine Ltd is pleased to announce the appointment of  Mr. Simo Pietilä, M. Sc, (35) as the Group's new Chief Financial Officer. Prior to Auramarine, Mr. Pietilä worked as the Chief Operating Officer of Eltel Networks. He will join Auramarine on 8th June 2020.
Reporting to the Auramarine CEO, Simo Pietilä will be responsible for the Group's financial reporting and measurement systems, as well as the strategic development and implementation of the company's ICT infrastructure.
"Auramarine operates in a fascinating and fast-changing industry, and has demonstrated for decades its ability to successfully evolve, service its customers to the highest standards and pioneer new solutions, which has enabled it to reach its market leading position.  I am really looking forward to starting work with Auramarine's highly professional global team, and contributing to the future success of the company," Mr. Pietilä said.
Commenting on the appointment,  Jouko Salo, Auramarine CEO, said: "We are delighted to welcome Simo to the Auramarine family, and look forward to working closely with him and seeing his contribution to the ongoing growth and development of the business."
Auramarine Group consists of Auramarine Ltd in Finland and Auramarine Asia Ltd in Shanghai.