Auramarine strengthens customer support under new sales representative agreements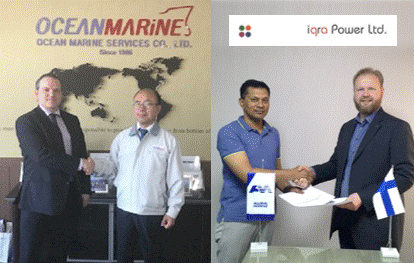 Turku, Finland, 28.08.2018. Auramarine, the leading provider of fuel supply systems for the marine and power industries, announces new sales representative agreements, most recently with Bangladesh-based iqra Power Ltd, signed at the beginning of August this year, and with South Korean company, Ocean Marine Services Co Ltd, signed at the end of May.
The agreement with iqra Power authorises the company to sell and promote Auramarine's new products and genuine spare parts in Bangladesh. Auramarine has already delivered a significant number of power plant units to the area and its co-operation with iqra Power will enable Auramarine to better serve this customer-base and make the most of any new opportunities.
"We are confident that the co-operation with iqra Power will bring us closer to our customers," says Ole Skatka Jensen, CEO of Auramarine. "iqra Power has experienced personnel with a wide contact network across the area's rapidly expanding power and maritime sector. We believe that this agreement will support and strengthen Auramarine's foothold in the power business and the fuel supply sector as a whole."
"iqra Power appreciates Auramarine's proven technology on the market and that is why the agreement will add considerable strength to our offering," says Mahboob Morshed, Chairman of iqra Power Ltd. "Projects often call for customised fuel supply and handling solutions, which we are now able to offer to our clients."
Under the terms of the agreement with Ocean Marine Services, the company has been authorised to sell and promote Auramarine's genuine spare parts and retrofit products in South Korea. New product sales in the country will continue to be handled by Boema Hi-Tec Ltd, with whom Auramarine enjoys a long-standing co-operation.
"We are impressed by the professionalism and strong presence of Ocean Marine Services," continues Mr Jensen. "This agreement supports our commitment to better serve our customers in the South Korean market and drives service efficiency."
James J M Kim, President and CEO of Ocean Marine Services says: "Ocean Marine Services will always support and provide the best products to its clients, at reasonable prices and fast deliveries. Auramarine's products complement our offering corresponding to the wishes and needs of our customers and we look forward to a constructive business relationship."
Further information:
Isto Sakkara,
Director of Sales
Auramarine Ltd.
+358 400 729 564
Konstantinos Fakiolas
Director, Global After Sales
Auramarine Ltd.
konstantinos.fakiolas@auramarine.com
+358 40 836 8321
Outi Jokinen
Marketing Manager
Auramarine Ltd.
+358 400 939 201
Auramarine is the trusted fuel systems expert for the marine and power industries. Our proud heritage stems from the company's foundation in Finland in the early 1970s. Since then Auramarine has delivered over 14,500 robust and reliable auxiliary systems to  customers all over the world, continuously aiming for superior service and customer value. Auramarine has over 100 employees with offices in Finland, mainland China and Hong Kong, and representatives in more than 25 countries. www.auramarine.com