Auramarine appointed as preferred fuel system service provider for entire MARCAS-served fleet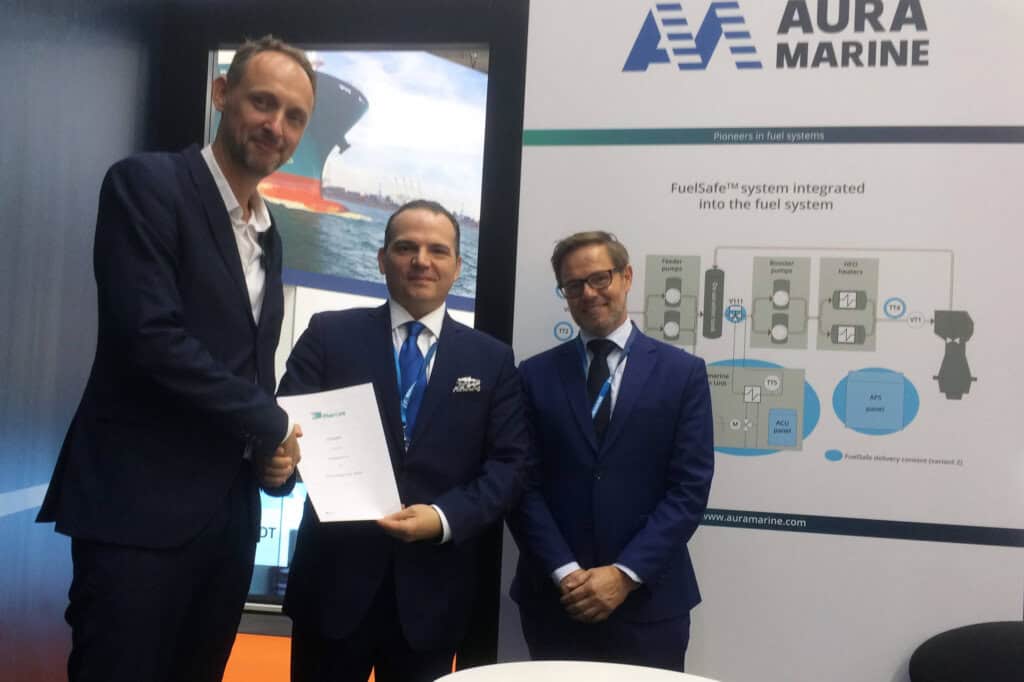 The signatories met at SMM 2018 in Hamburg, Germany: Jesper Bak Weller, Managing Director at MARCAS International Ltd; Konstantinos Fakiolas, Director Global Lifecycle Services at Auramarine; Ole Skatka Jensen, CEO at Auramarine
Turku, Finland, 09.10.2018. Auramarine, the leading provider of engine room fuel supply and auxiliary systems for the marine and power industries, announces an agreement with independent Marine Contracting Association, MARCAS International Ltd, part of V. Group. It will see Auramarine deliver fuel system services to a MARCAS-served fleet totalling more than a thousand vessels, helping them navigate some of the most significant fuel regulation changes that the industry has seen in decades.
"The proper function of the fuel supply system is critical for any ship," says Jesper Bak Weller, Managing Director at MARCAS International Ltd. "Cooperation with Auramarine enables us to source high-quality services and genuine spare parts from a trusted fuel system expert, while coping with the challenges of the 2020 IMO sulphur cap. This supports our goal to become the leading global provider of marine support services."
"Under the agreement, Auramarine will offer advice and support to MARCAS members," explains Ole Skatka Jensen, CEO of Auramarine. "This will include a full technical analysis of on-board fuel supply system conditions and the cost-efficient planning of customised upgrades and improvements, likely to be required for operating on the new fuels.
"Such close collaboration and enhanced specialist services will ensure safer ship operation under different fuel types and qualities," adds Mr Jensen. "It is also a remarkable agreement for Auramarine."
"We are fully committed to support the operational efficiency of the fleet served by MARCAS and not only have a wide range of suitable products and services available for the forthcoming environmental regulation changes, but also offer solutions way beyond this," he notes.
"Auramarine looks at the benefits for all parties. In terms of pricing and availability, and from an administrative perspective, it makes sense to leverage economies of scale for services and spare parts," concludes Mr Jensen.
The agreement was signed on 31st August, 2018 and provides premium benefits and services for MARCAS' ship owners and ship management company members. Benefits include volume sourcing and the allocation of services specifically adjusted to the geographical requirements of the fleet, cost-competitive spare parts and on-board fuel system upgrades and modifications, advantageous service engineering rates, and 24/7 technical support.
Further information:
Konstantinos Fakiolas
Director, Lifecycle Services
konstantinos.fakiolas@auramarine.com
Outi Jokinen
Marketing Manager
Auramarine Ltd.
outi.jokinen@auramarine.com
Auramarine is the trusted fuel systems expert for the marine and power industries. Our proud heritage stems from the company's foundation in Finland in the early 1970s. Since then Auramarine has delivered over 14,500 robust and reliable auxiliary systems to our customers all over the world, continuously aiming for superior service and customer value. Auramarine has over 100 employees with offices in Finland, mainland China and Hong Kong, and representatives in more than 25 countries. www.auramarine.com